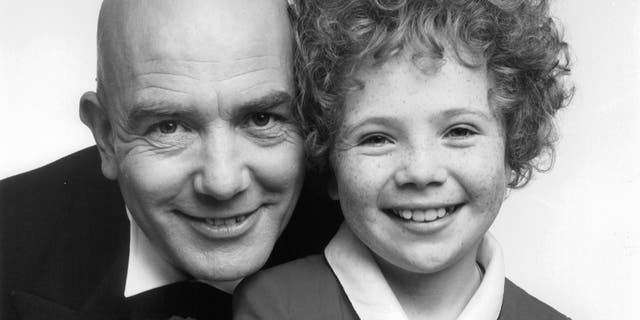 He dipped his toe into the horror genre with 1981's Wolfen, an unconventional werewolf film where he played the lead role of a burnt-out NY cop.
Among his most beloved roles is "Daddy" Warbucks in John Huston's 1980 screen adaptation of musical Annie - and that wasn't the actor's only song-and-dance role.
The star, who was born in Salford, was best known for his roles in Erin Brockovich, Murder On The Orient Express and Annie. The actor then went on to roles in 2012's The Bourne Legacy and the same year's James Bond pic Skyfall.
Albert Finney has died.
He said: "Both on stage and screen".
Written by Shelagh Delaney, the tale of a successful writer returning to his Manchester hometown was clearly highly personal for Finney, though it would prove to be his only directorial credit. It's nothing to shake a stick at, but to put it in perspective, that's roughly half of what NCIS star Mark Harmon makes in a year.
He's taken on a number of films, including Skyfall, A Christmas Carol, and the lead role of Winston Churchill in The Gathering Storm.
Real Madrid boss Solari wants Barcelona's Messi to play in Clasico
The forward was then included in the squad announced at 1900 GMT on Tuesday. Bookmaker companies consider Barça the favorites in this clash.
He won two BAFTA Awards and was nominated 13 times. Roberts, 51, played the titular legal assistant and Finney her lawyer Ed Masry, who was instrumental in the lawsuit against Pacific Gas & Electric Company. However, he won some notable industry awards over the years. "Who could forget him in Tom Jones".
He played alcoholic ex-diplomat Geoffrey Firmin in Under the Volcano, which brought him his fourth Oscar nomination, and would go on to earn another nod in 2001 for Erin Brockovich.
He started out in William Shakespeare plays and mixed his movie career with acclaimed theatre roles.
But stardom came to Finney anyway in "Tom Jones" where he won over audiences worldwide with his good-natured, amusing and sensual portrayal of an 18th-century English rogue. "God knows what I am". "I suppose I wanted to travel a bit", he told Rolling Stone in 1982.
"I think the Sir thing slightly perpetuates one of our diseases in England, which is snobbery", he said at the time. Jesus, it suddenly seemed important what I did next, so I said to hell with it. He had also been nominated for an Emmy for HBO's The Image (1990).
Check out The Cheat Sheet on Facebook!