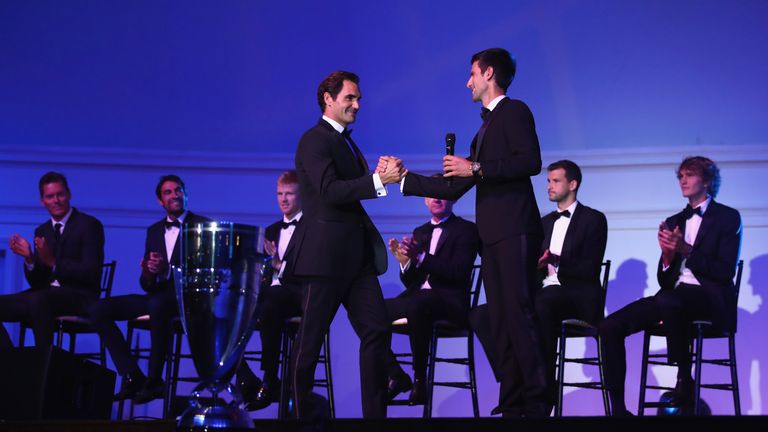 Djokovic drilled Federer in the lower back with a forehand in the third game of their doubles match against Kevin Anderson and Jack Sock in the Laver Cup.
Federer and Djokovic took the first set 7-6 in a tiebreaker, but Sock and Anderson won the second set 6-3 and then captured the deciding tiebreaker 10-6 to give Team World its lone win on the first day of the exhibition.
Europe had earlier built their advantage on singles victories for Bulgarian Grigor Dimitrov, Briton Kyle Edmund and Belgian David Goffin.
This is the second instalment of the Laver Cup which has been dubbed the Ryder Cup of tennis - although it lacks the tradition of golf's premier team event.
Federer and Djokovic last played against each other in the Cincinnati final on August 19, when Djokovic won 6-4, 6-4 to become the first player to claim all nine ATP Masters 1000 events since the series started in 1990.
The exhibition is taking place on United States soil for the first time and features 12 of the world's top players squaring off against each other in a three-day showcase which wraps up Sunday in Chicago.
Les Diables Rouges rejoignent la France en tête du classement FIFA
La FIFA a publié son nouveau classement aujourd'hui, l'Algérie perd 3 places en se positionnant maintenant au 69e rang mondial. Depuis, les Diables ont signé deux larges succès, 0-4 en Écosse en amical et 0-3 en Islande en Ligue des Nations .
Except for one particular point.
When the pair subsequently sat down at a change of ends, Federer said to Djokovic: 'That's why we don't play doubles, bro!' "It's a nice feeling and I think it's great for you guys to see that".
Bjorn Borg's Team Europe will be aiming to defend their crown against Team World which will be captained by the legendary John McEnroe.
Federer, Djokovic, Alexander Zverev, Dimitrov, Goffin and Edmund make up Team Europe.
Sock, Nick Kyrgios, John Isner, Tiafoe, Anderson and Schwartzman are representing Team World.The event is named in honour of tennis legend Rod Laver, who won a record 200 singles titles, 11 Grand Slams and five Davis Cups for Australia.