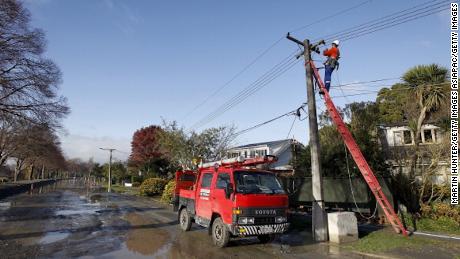 The seven-year-old girl successfully campaigned to have New Zealand's "sexist" road signs, which say "LINEMEN", changed to be more inclusive.
Zoe Carew spotted a "linemen" hazard sign - to warn drivers about workers repairing or installing electricity and telecommunications cables - when she was en route to her grandparents' house last month.
New Zealand will change signs that say "Linemen" to "Line Crew" after a seven-year-old girl wrote a letter to authorities pointing out that "women can be line-workers too", the Guardian reports.
She said she felt this was wrong and was unfair to female workers and asked them if they agreed. "Do you agree?" Carew wrote in the letter.
"I don't really want to be a line-worker when I grow up because there are so many more exciting things I would like to do, but some girls might want to learn to be a linewomen", she wrote. Gammie also commended Carew "for taking action where you think something unfair should be fixed".
Denmark: Face veil ban a discriminatory violation of women's rights
Repeat offences could trigger further fines of up to 10,000 kroner or a jail sentence of up to six months. On August 1, when face veils are banned in Denmark, Sabina will not be leaving her niqab at home.
Her mum wrote:'So proud of my 7yo.
Zoe's mum praised the decision by the NZTA and shared her pride in her daughter via Twitter.
While the chief executive said the NZTA agreed with Carew's opinion, he informed her that the term "line-workers" would require a bigger sign, and suggested "line crew" instead. High 5s all round!' The Transport Agency can include this change in its sign specific approvals, which will be published soon. The letter also mentioned that the change would take place once the old ones need replacement due to wear and tear.
"We were happy to take Zoe's suggestion on board, because great ideas can come from anyone, including seven-year-olds!" the agency tweeted. Gammie said it will take some time for all the signs to be replaced, as they will place the new ones when old ones are looking worn.