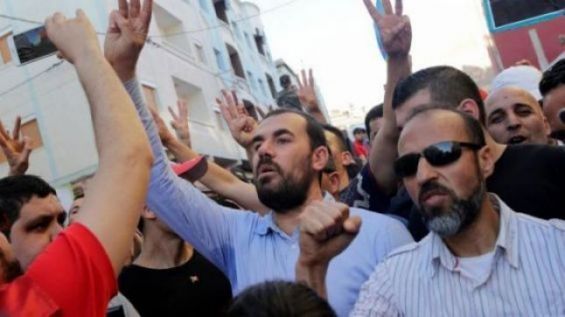 Les autorités marocaines, elles, assurent que le procès s'est tenu conformément aux normes de la justice internationale, en présence d'observateurs indépendants et de médias.
Des peines allant de 20 ans de prison ferme à un an de prison avec sursis ont été prononcées, mardi 26 juin 2018, par la Chambre criminelle de la Cour d'Appel de Casablanca à l'encontre des accusés dans les événements d'Al Hoceima.
Les mis en cause sont poursuivis, chacun en ce qui le concerne, de plusieurs chefs d'inculpation, notamment, " atteinte à la sécurité intérieure de l'État", " tentatives de sabotage, de meurtre et de pillage", " réception de fonds, de donations et d'autres moyens matériels destinés à mener et à financer une activité de propagande à même d'attenter à l'unité et la souveraineté du Royaume ".
Après le verdict, les proches des accusés ont quitté le tribunal en criant leur colère contre "l'État défaillant" et en scandant "vive le Rif", en référence à la région historiquement frondeuse et marginalisée dans le nord du Maroc secouée par le mouvement de protestation. "Les décisions désastreuses de l'État menacent la stabilité et la cohésion du pays", a fustigé Nabila Mounib, figure de la gauche au Maroc à la tête du PSU (Parti socialiste unifié, gauche), lors d'une conférence consacrée à la contestation sociale dans le pays et aux détentions politiques, mercredi à Casablanca.
20 ans de prison ferme pour quatre meneurs du Hirak, dont le populaire Zefzafi, et entre 2 et 15 ans pour une cinquantaine d'autres manifestants du soulèvement d'octobre 2016 dans le Rif.
Dans la nuit, des rassemblements ont eu lieu à Al-Hoceïma (nord), épicentre du Hirak, et dans la ville voisine d'Imzouren, autre haut lieu de la contestation, ont rapporté des médias locaux.
Les autorités locales ont confirmé à l'AFP qu'un collège avait brûlé dans la nuit, en indiquant "ne pouvoir se prononcer sur le lien entre l'incendie et les sentences". Des appels à la grève générale circulent sur les réseaux sociaux, avec des images de commerces fermés, mais il est difficile d'évaluer l'impact du mot d'ordre.
Chicago Pride Parade on North Side celebrates equality
Lady Gaga's "Born This Way" blared from loudspeakers as people marched, danced, stomped and watched along the route. Victoria Justice made a colorful statement as she sat on amfAR and Amazon's float at the NYC Pride parade today.
Nassef Zefzafi, sans emploi, s'était rapidement imposé comme le visage de la contestation avec ses harangues publiques et ses attaques contre "l'État corrompu", avant d'être interpellé pour avoir interrompu un prêche dans une mosquée.
Les manifestations déclenchées par la mort d'un vendeur de poissons dans des conditions horribles: broyé dans une benne à ordure au moment où il tentait d'empêcher la police de détruire sa marchandise (...).
Le premier ministre marocain, Saad-Eddine El Othmani, a affirmé ce mercredi que la justice était "indépendante", en réaction à un tweet qui lui demandait d'intervenir en faveur des meneurs du mouvement de protestation "Hirak".
"Je souhaite qu'aucun Marocain n'aille en prison", a-t-il écrit sur son compte personnel Twitter en réponse à un tweet.
Des internautes ont pointé eux aussi un "retour en arrière" vers "les années de plomb", en allusion aux exactions commises sous le règne de l'ancien roi Hassan II entre les années 1960 et 1990.
"L'affaire sera bien entendu réexaminée devant la Cour d'appel".
"Ce sont des peines très lourdes qui mettent à l'épreuve le degré d'engagement de l'Etat à respecter les droits de l'Homme et les libertés essentielles", s'est indignée l'avocate Souad Brahma devant les journalistes marocains.